Parts I, II, and III could be said to describe with what methodological processes its selections exhibit a post human transformation and to what amplitude that method has become complete with its host.
Ingestion describes a remedial level of technological intervention and is focused on books and subjects where by some willful act, the body undergoes a mutation by consumption, insertion or association. Through a specific kind of presentation, some of the subjects visually describe ingestive methods by inserting themselves into the biology of the book.
As Alice is confronted with the issue of scale, her body responds to the need to navigate through the arduous and spontaneously shifting architecture of Wonderland, via serums and cakes she ingests enabling at will shape-shifting.
Well-known French multi-media and performance artist Orlan is regarded as the first person to use plastic surgery as a medium of artistic expression in popular art.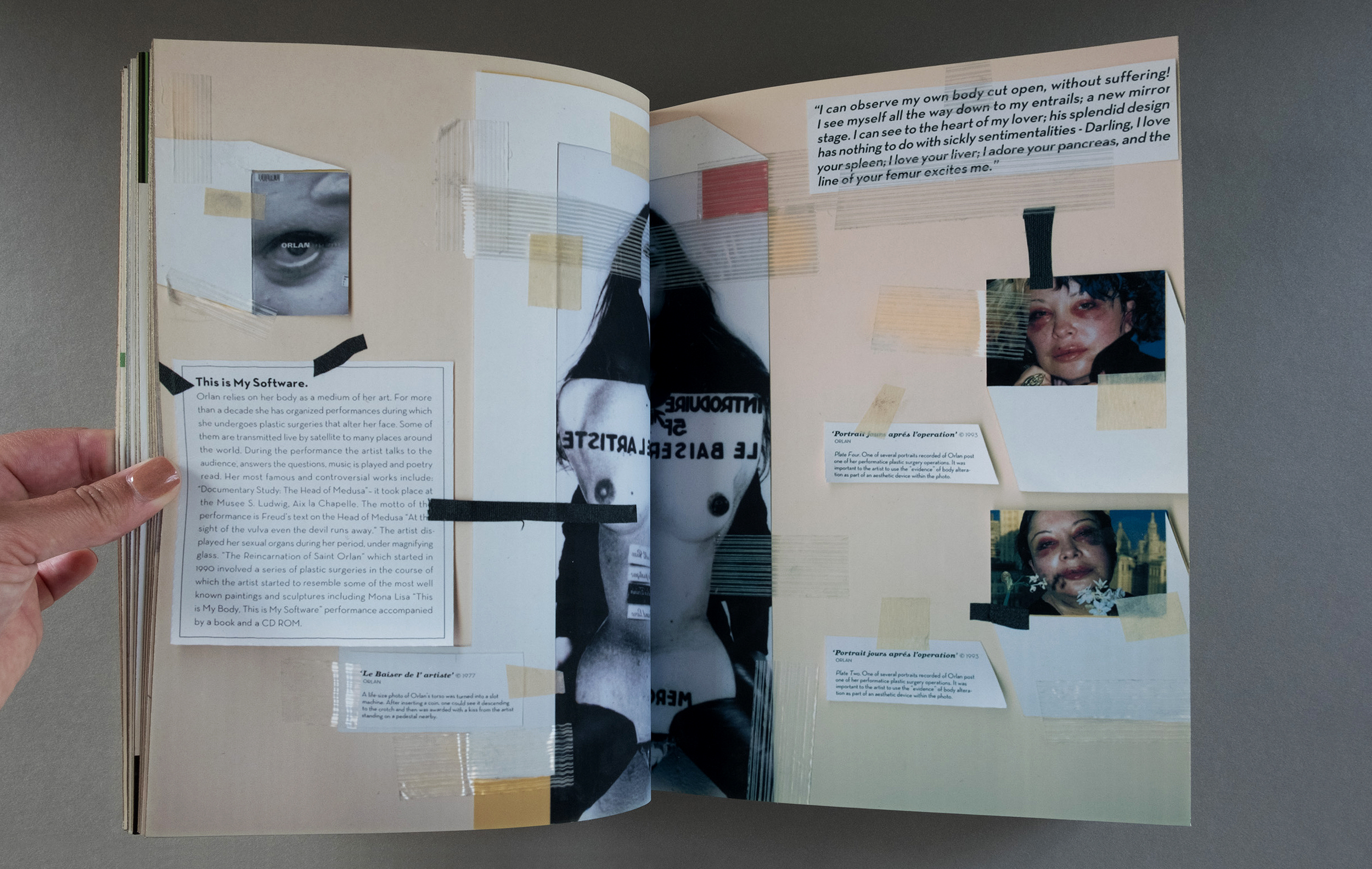 Like Alice, Orlan's self-orchestrated body modification challenges the security and permanence of identity.
The body of the book, even in its mundane duty to captions, quotes and texts, echos the procedural Frankensteining of Orlan's body.
Dan Friedman's seminal book, PostHuman illuminates the mutation the body undergoes as the cult of personality gets processed, duplicated, filtered and broadcast through media devices. Through the televised event, a bigger, better, faster edition of ourselves is secured.
Again, the book design physically responds to the method with which the selections have been identified. Here the spreads have been overtly edited allowing only a highly constructed message to be perceived.
Digestion is the process of breaking down ingested material into parts, deconstructing it into exposed condensed form, so that its foreign physiology may integrate more acutely with our biology. Digestion is a more advanced and invasive incorporation of foreign elements not native to the body, and as such, the contents of Part II, Digestion, are of subject matter whose post human methodology and display in the book are both more complex and interlocked.
Prosthetics have long been a most obvious and familiar illustration of man's transformation into the post human, probably the result of the aesthetic implications of flesh bound organisms with robotic body parts.
Expulsion expels traditional understandings of what is human altogether. Expulsion or excretion is the "process of eliminating from an organism waste products of metabolism and other materials that are of no use. It is an essential process in all forms of life." In parallel, Expulsion points to a spot on the horizon where artificiality is no longer detectable, where outdated human biology has been pushed out and the integration between humans and technology has yielded a new streamlined species in sum.
Matthew Barney's Cremaster Cycle exhibition catalog reveals biological considerations that the conceptual anthology of films make about what expanded notions of post humanism can be. Not all post human ideologies are technologically biased, some consider synthesis between existing organic systems as well.
In each of the films in the cycle, human anatomical conventions are destabilized, redesigned and inherit physical exchanges with various material and form to an alien degree.